Foxtons staff sacked over 'brawl' with activists outside Boris Johnson's home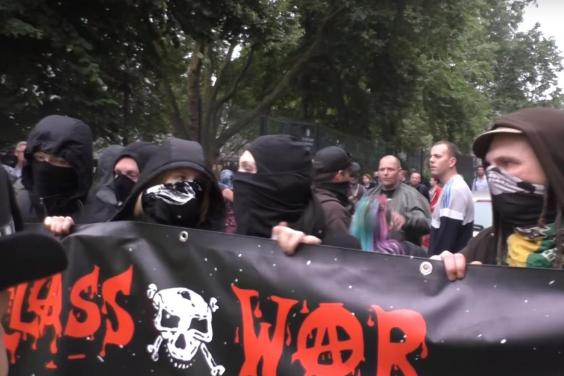 Bangla sanglap Desk:Three Foxtons employees have been sacked after allegedly brawling with activists outside Foreign Secretary Boris Johnson's home, it emerged today.
Several workers from the estate agent's Islington branch were filmed clashing with demonstrators.
Footage of the protest shows a group of businessmen in fitted suits clashing with masked demonstrators before police move in to break up the scuffles.
The activists, whose faces were covered with scarves and hoods, set off coloured smoke bombs and paraded a banner of the newly appointed Foreign Secretary's face beneath the blade of a guillotine.
The Standard understands that the Foxtons branch in Upper Street had been forced to close early on July 15 amid concern it could become a target for anarchist group Class War's planned demonstration.
The demo was advertised on the group's website.
Activists were urged to march on Mr Johnson's home two days after he was made Foreign Secretarywith the words: "Bring pitchforks, flaming torches and incandescent anger!"
A source said several Foxtons employees went to a nearby pub before encountering the protesters outside Mr Johnson's home.
He said: "They closed the shop and went to the pub, They had a scrap. It involved a few people from the Islington branch."
It is understood three people are no longer with the company and another is suspended "pending further investigation".
A spokeswoman for Foxtons said: "We were extremely disappointed to learn of this incident.