American blogger who spoke out against religious extremism is hacked to death by Muslim militant group on Bangladeshi street as he walked with his wife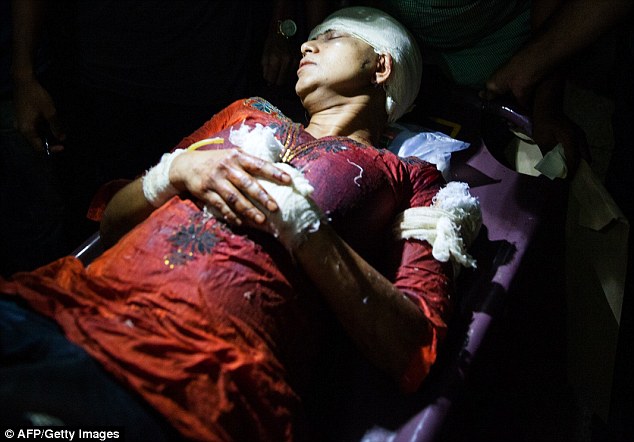 Rafida Ahmed is pictured above being stretchered to hospital after the attack on Thursday night. Police say she was attacked after trying to defend her husband
Bangla sanglap desk: A prominent Bangladeshi-American blogger has been hacked to death in the street by militant Muslims after denouncing religious extremism.
Dr Avijit Roy, 42, from Atlanta, Georgia, was jumped by the gang of machete-wielding assailants last night in Dhaka, the capital of Bangladesh.
He is well-known in Bangladesh for for his outspoken atheism.
An obscure militant group, Ansar Bangla 7, has claimed responsibility for the attack, which it said is in retaliation for his 'crime against Islam'.
They also said he was singled out because he is a U.S. citizen – and characterized the vicious killing as 'revenge' for attacks on ISIS in Syria.
Police said at least two men, who are believed to have links to Dhaka university, attacked Roy around 8:45pm and landed three strong, deliberate blows to the right side of his head.
They turned on his wife, Rafida Ahmed, when she tried to save him, then fled into the crowd, dumping their weapons as they ran.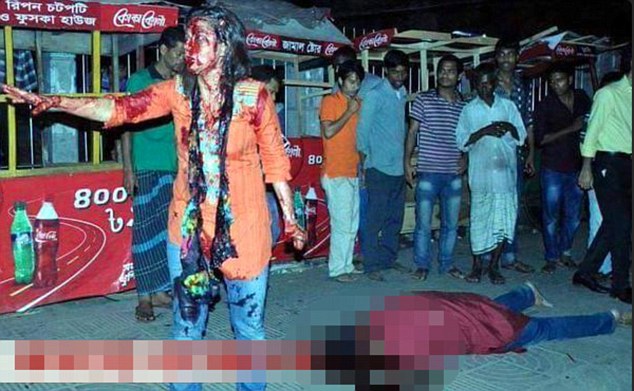 This image, circulated by extremists on social media, shows Dr Aijivit Roy dead on the floor in Dhaka, Bangladesh (right). Left, his wounded wife, Rafida Ahmed, stands over his body
His body was found in a pool of blood on Thursday night after the brutal attack.
Ahmed, 45, is also a blogger. She is reportedly now in hospital with a deep cut to her head.
Roy, who is a naturalized U.S. citizen and also a bio-engineer, had been receiving death threats online for years.
One Muslim fanatic, Farabi Shafiur Rahman, had reportedly posted threats on Facebook last year that Roy would be killed as soon as he returned to the country.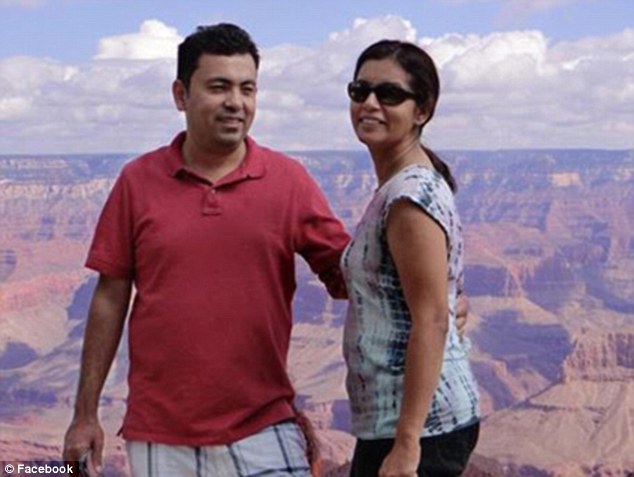 Dr Roy and his wife, Rafida Ahmed, lived in Atlanta, Georgia, and were visiting Bangladesh when they were attacked
Roy and his wife were visiting the city of Dhaka for a book fair when they were set upon opposite the Dhaka University Central Mosque. Police have said the attackers likely have links to the university.
Jubilant extremists writing on social media were quick to praise the attackers. The account for Ansar Bangla 7 made a post which linked the killing to Roy's nationality – and American airstrikes on ISIS.
It said: 'The target was an American citizen.. 2 in 1. #America recently martyred 2 of our brothers in #Khurasan & #Shaam. #Revenge+#Punishment.'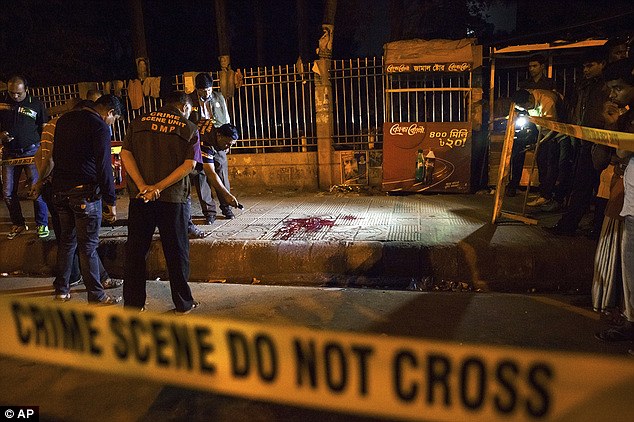 Khurasan refers to Afghanistan. Shaam is a term for Syria, where American airstrikes have been a major part of the fight against ISIS.
They also said he had been their 'top target', and tried to justify the killing by saying he 'crossed his limit' after being 'warned many times'.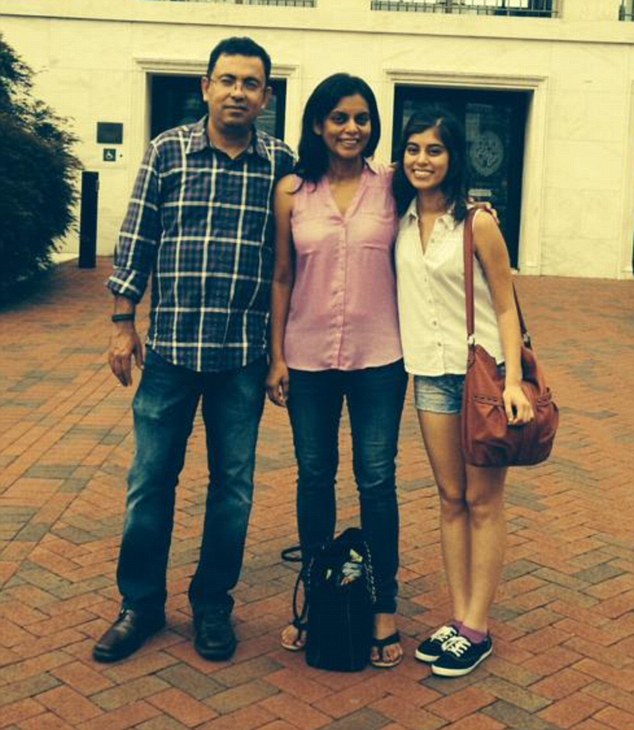 According to an autopsy report obtained by local site BDNews24, Roy was killed by three deep gashes, which cut through his skull to the brain.
Doctors examining Roy's body said the attack had the hallmarks of professional killers, who acted with 'planning, skill and brutality'.
BDNews24 reported that she had lost a finger in the attack and had a deep gash to her head.
Police are yet to arrest anybody over the killing – and said on Friday they still have no leads – though they think the killing is linked to the university.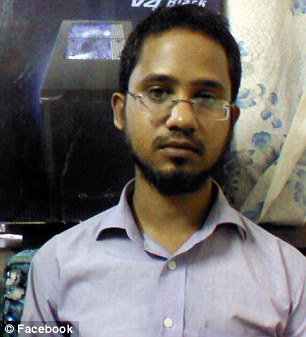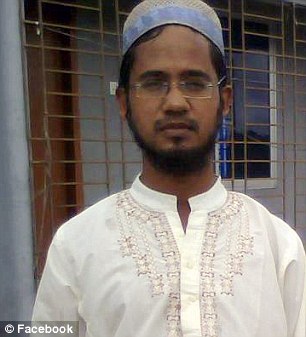 Threats: Farabi Shafiur Rahman, pictured, reportedly threatened Roy with death should he come back to Bangladesh
Bangladesh News 24 quoted a police spokesman saying the murder was 'university-centric'.
He said: 'Those who had come to kill [Roy] with machetes were not outsiders. This is university-centric'.
Roy was of a Hindu background – a religious minority in Bangladesh which which has been historically persecuted. He is also the son of a prominent secularist and human rights activist, Ajay Roy.
He was a prominent voice against religious intolerance, who had been sent death threats over his writings.
Chief Sirajul Islam said said: 'Several attackers took part in the attack and at least two assailants hit them directly,' Islam said, adding that two blood-stained cleavers were found after the attack. '
Shilby Noman, Dhaka's assistant police commissioner, said: 'Nothing of note has been revealed so far.
'But we hope that we'll be able to arrest them and bring them to book so that this kind of crime does not take place again.'

Roy was often threatened over his writings, which appeared online, in newspapers and in several published books.
Police sources in Dhaka say that, despite the violent threats, he had never asked them for protection.
According to the Dhaka Tribune, the religious extremist Farabi Shafiur Rahman was one of those leaving threats.
He is said to have written: 'Avijit Roy lives in America. So it's not possible to kill him now. He will be killed as soon as he returns home.'
In a later post, he is said to have continued: 'It's now time to openly kill those atheists who will make obscene comments against Allah and His Messenger, giving them slow, painful death… In Bangladesh, either we Muslims will survive or the atheists will.'
The Guardian reported that he was arrested for the comments – but it is unclear whether or how soon he was released.
Roy was the founder of a popular Bengali-language blog – Mukto-mona, or Free Mind – in which articles on scientific reasoning and religious extremism featured prominently.
On its pages, Roy had recently published a defense of atheism, writing in January that it was 'a rational concept to oppose any unscientific and irrational belief.'
The website was shut down in the wake of the attack and now displays a message in Bengali, which reportedly reads: 'We are in mourning, but not vanquished'.
Roy has also written several books – two of which had been launched earlier in the book fair he was visiting.
Roy's father, retired professor and secular activist Ajay Roy, called for harsh punishment of his son's killers, and said their actions were a sign of Bangladesh's declined.
He told reporters: 'The Bangladesh that was earned by the blood-sacrifice of the martyrs has now turned into a den of militants.
'I demand that the government immediately stops militant activities, vbbrings them to book and ensures exemplary punishment.'
Hundreds of students and activists gathered in Dhaka today to mourn Mr Roy's death and protest against the intimidation and murder of secular writers.
Islam is Bangladesh's state religion but the country is governed by secular laws based on British common law, and Prime Minister Sheikh Hasina has repeatedly said she will not give in to religious extremism.
Anujit Roy, his younger brother, said Roy returned to the country earlier this month from the U.S., and headed back in March.
Baki Billah, a friend of Roy and a blogger, told Independent TV that Roy had been threatened earlier by people upset at his writing.

'He was a free thinker. He was a Hindu but he was not only a strong voice against Islamic fanatics but also equally against other religious fanatics,' Billah said.
'We are saddened. We don't know what the government will do to find the killers. We want justice,' he said
nternational condemnation was also mounting over the murder. Representatives of the European Union in Dhaka said: 'The Delegation of the European Union to Bangladesh condemns the brutal assault and killing of blogger Avijit Roy and wounding of his wife last night in Dhaka.
'The EU reiterates its strong attachment to freedom of expression which constitutes an essential element of a democratic society and calls for a prompt investigation to bring perpetrators to justice.'
Meanwhile Robert Gibson, the British High Commissioner to Bangladesh, said on Twitter he was: 'Shocked by the savage murder of #AvijitRoy as I am by all the #violence that has taken place in #Bangladesh in recent months'.
Similar attacks have taken place before in Bangladesh, a Muslim-majority nation of 160 million people ruled by secular laws. Investigators have said religious fanatics were behind those attacks.