Desmond's devastation: Storm whips up seas so high that massive car carrying ship gets enormous HOLE in its side as army are called in and floods wreak havoc across Cumbria and Scotland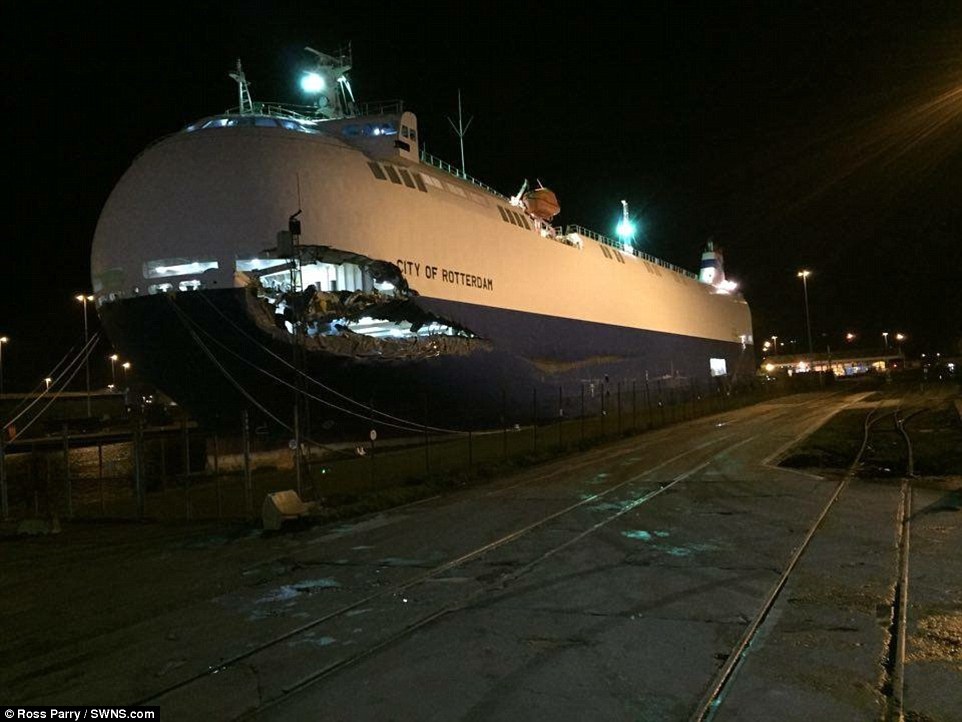 Bangla sanglap desk:A massive car carrying ship was left with an enormous hole in its port when it crashed with another vessel in high tides as Storm Desmond wreaked havoc across Britain.
The smash on the North East Lincolnshire coast came just days before the army was called in to help stranded families who had been forced out of their homes because of flooding.
More than 1,000 people have been evacuated from houses in parts of Cumbria and the Scottish Borders, as 60,000 homes have been left without power.
The Environment Agency has issued 186 flood warnings, as Cumbria Police warned Carlisle residents to stay indoors and not to travel.
The warning came as emergency services searched the River Kent in the city following fears an elderly man had fallen into the water.
The cross-Tyne Shields ferry Spirit of the Tyne also had to be rescued by Tynemouth RNLI lifeboat volunteers in a dramatic mission last night after the ferry's engine failed on its final crossing of the night from North to South Shields.
As the lifeboat was being launched the Port of Tyne pilot launch Collingwood managed to evacuate the small number of passengers from the ferry, leaving just the skipper who was desperately trying to get the ferry's engine restarted.
The drifting ferry was then carried several hundred yards downriver by the powerful wind and current until it was caught on the river bank.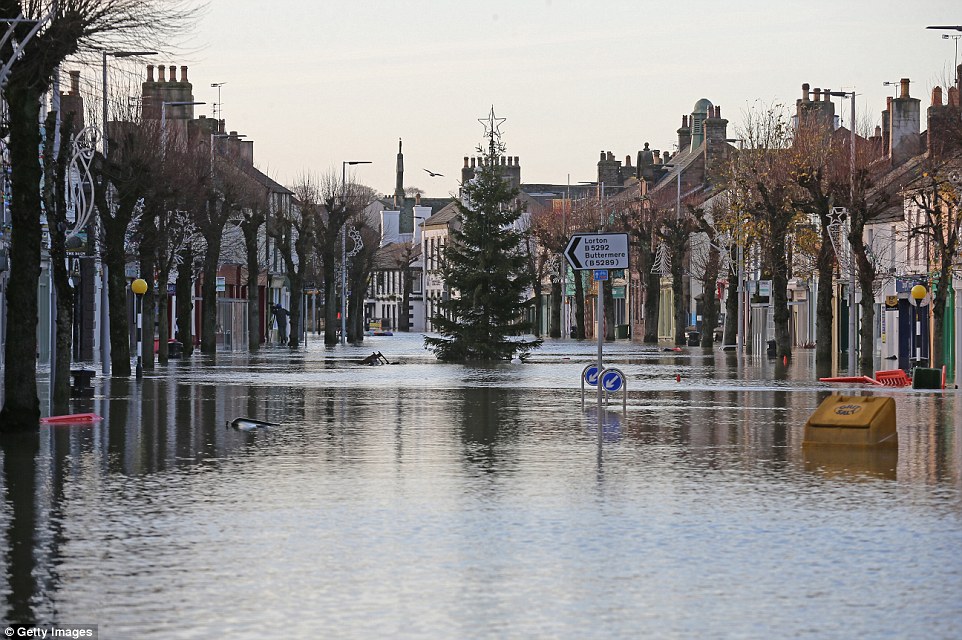 The British Red Cross teams set up rest centres in Keswick, Appleby and Kendal, while medical groups issued an urgent call to draft in extra doctors amid fears the storm could cause casualties.
Adrian Holme, from Cumbria Fire and Rescue Service, told the BBC the flood was 'unprecedented' and 'exceptionally challenging' as more than 100 people were evacuated from Keswick.
Power supplies were also seriously affected and at least 55,000 homes in Lancaster, Morecambe, Carnforth will continue to face cuts for a number of days after flood defences protecting a major substation were breached overnight.
Electricity North West said another 4,000 properties were without power across Cumbria as flooding continued to cause further faults.
A fire and rescue crew had to save a member of the public who was found clinging to a tree after they tried to reach a horse stranded in a flooded field in Northumberland, while fire services in Lancashire responded to more than 300 calls for help, including road traffic collisions and two fires.
Looking ahead, MeteoGroup forecaster Gemma Plumb said weather should dry out later during Sunday – before more rain heads up from the south west on Sunday night.
Environment Secretary Elizabeth Truss said that an emergency Government meeting has been called to organise effective responses for the worst affected.
She said: 'We know what a devastating impact flooding has on communities and our thoughts are with those affected this weekend.
'The Environment Agency, local authorities and the emergency services are already working around the clock to protect properties, help those already affected and reduce the risk to others and we are working with them to ensure they have everything they need to respond. I urge people to check the latest flood updates via the EA website and Twitter.'
In the south of Scotland, hundreds of homes have been evacuated as Storm Desmond burst river banks across the country.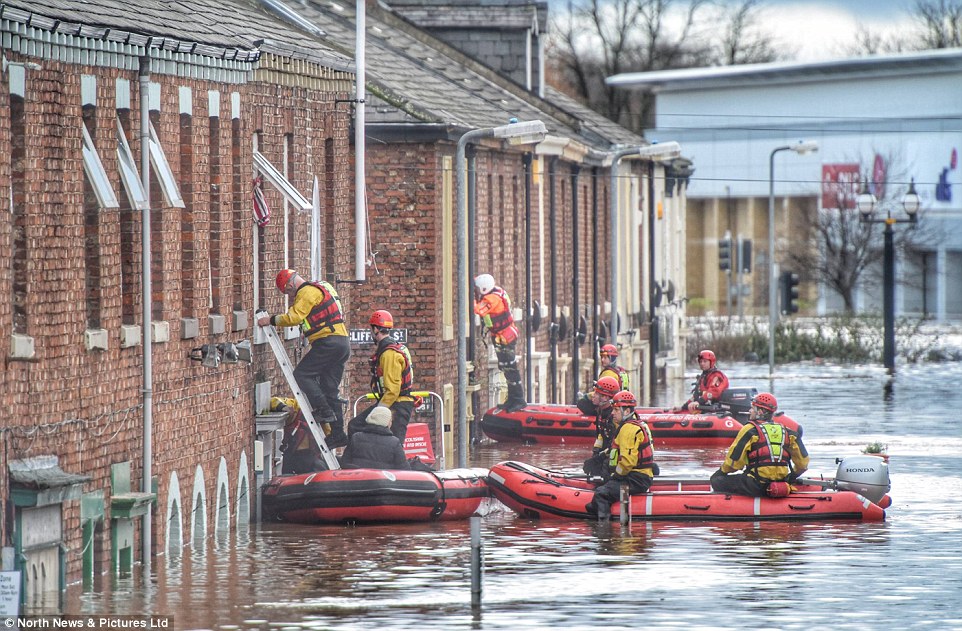 A rare red weather warning covered Dumfries, Lothian and the Borders until the early hours of Sunday with heavy rain due to continue.
Dumfries and Galloway Council described the situation as a 'major emergency' and said it was preparing for flooding similar to that which hit the region in 2009.
More than 100mm of rain has fallen in the region since Friday, according to Met Office figures.
Red Cross volunteers were called out to set up and run a rest centre for people evacuated from their flood-threatened homes in Hawick.
The Scottish Environment Protection Agency (Sepa) has more than 70 flood warnings in place across the country, with the most severe warnings in place for Hawick and Newcastleton.
Homes close to the River Esk in Langholm were also evacuated on Saturday night as water breached the bank, while flooding has also been reported in some areas of Annandale and Eskdale including Wamphray, Cummertrees and Hoddom.
The River Tay in Perth is expected to reach its highest level for more than a decade and other rivers are at risk of bursting their banks.
Almost 20 properties in Blair Atholl were evacuated for a time on Saturday after the Garry Burn burst its banks but residents were allowed to return as the water level receded.
The majority of Scottish football matches were postponed on Saturday due to waterlogging and winds also had an impact on Renfield Street in Glasgow city centre, closed for a time as part of the Cineworld roof came loose.
The Scottish Government's resilience committee met twice on Saturday to discuss steps being taken to lessen the impact of flooding.
Chief Inspector David McCallum, who is leading the emergency response in the south of Scotland, said: 'We have been able to identify potential incidents early and deploy resources to ensure that local people have received the support, resources, advice, information and reassurance that they required.
'Severe weather conditions will continue through Sunday. Road conditions remain extremely dangerous and driving should be avoided if possible, especially on B class roads as many are not passable.'
In London, a 90-year-old man died yesterday near Finchley Central station, north London, after being blown into the side of a moving bus by a gust of wind.