Five arrested in UK after inquiry linked to Brussels and Paris terror attacks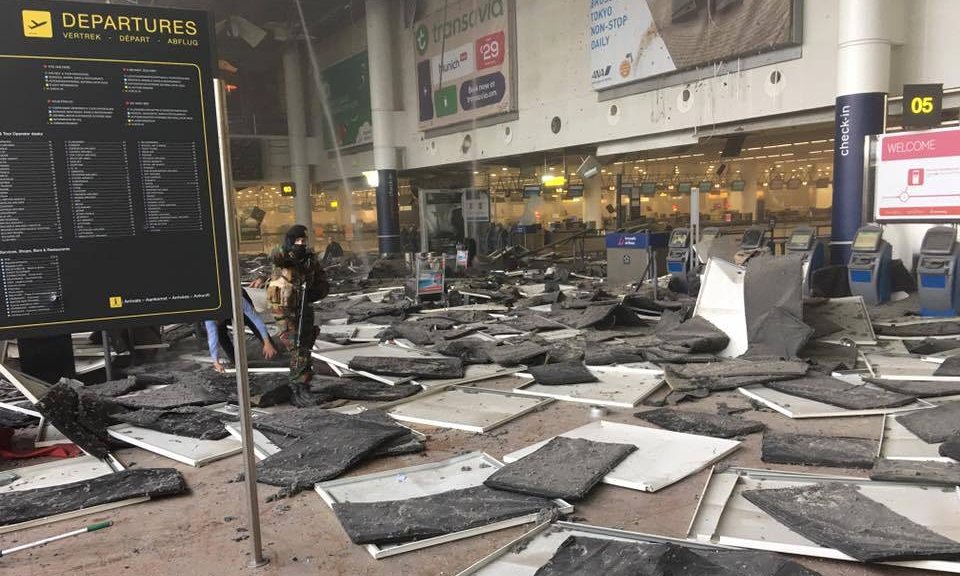 Bangla sanglap desk:Five people have been arrested in the UK over suspected British links to the terrorists that attacked Paris in November 2015 and Brussels earlier this year.
Four people were arrested in Birmingham, in the West Midlands, which British counter-terrorism officials believe one member of the European terror cell visited months before the massacre in Paris that killed 130 people. A fifth arrest was made at Gatwick airport in Sussex.
All five were detained on suspicion of preparing terrorist acts and British police said the arrests followed an investigation involving Belgian and French authorities. Authorities stressed there was "no information to suggest an attack in the UK was being planned".
Counter-terrorism officials across Europe have been investigating the cell after it first attacked Paris in November 2015, in marauding gun and bomb attacks that plunged France into a state of emergency.
Investigators believe there were links between that attack and the massacre last month at Brussels airport and on its metro system.
Belgian police last week arrested Mohamed Abrini – the "man in the hat" from the Brussels airport attack. European counter-terrorism investigators believe he came to the UK last summer and have been working to establish why.
Abrini, a 31-year-old Belgian national, visited Birmingham in July 2015. Investigators believe he took photos of landmarks in the area, including of a football stadium.
Abrini fled Brussels airport after his two alleged accomplices blew themselves up. He had been on Europe's most wanted list since being identified as one of two suspects seen on CCTV travelling in a car two days before the Paris terror attacks in November.
Four people – three men aged 26, 40 and 59 and a 29-year-old woman – were arrested in Birmingham on Thursday night and a 26-year-old man was arrested at Gatwick in the early hours of Friday.
All five have been arrested on suspicion of the commission, preparation or instigation of acts of terrorism.
The assistant chief constable, Marcus Beale, who leads on counter-terrorism for the West Midlands, said: "This action forms part of an extensive investigation by West Midlands counter-terrorism unit, together with the wider counter-terrorism network, MI5 and international partners including Belgian and French authorities to address any associated threat to the UK following the attacks in Europe."
The arrests were pre-planned and intelligence-led, Beale added, there was no risk to the public at any time and there was no information to suggest an attack in the UK was being planned.
All five are being held in the West Midlands, where they are being questioned. Police were also searching a number of properties in Birmingham as part of the investigation.
The arrests come five months after the 13 November terrorist attacks in Paris that killed 130 people and less than a month after the 22 March suicide bombings in Brussels in which 32 people died. According to Belgian and French investigators, the same terror cell was behind both attacks.
The links between that cell and British based jihadis has been under investigation for several months. The attack on Paris was led by Abdelhamid Abaaoud, a top Islamic State commander, who died after the atrocity in a shootout with French forces.
Found in his possession was a phone, on which were pictures of a visit to Birmingham and London months before the carnage in the French capital, as well as pictures taken during his visit to fellow jihadis. There has been no official comment on what is thought to have been the reason for the visit.
Whether Abbaoud or Abrini, or both, visited Birmingham last year before the Paris attack, is unclear.
In February, the West Midlands chief constable Dave Thompson told the Guardian during an interview that his force were conducting a number of inquiries, involving international partners, into the visit to Birmingham by one of the European-based cell.
Thompson declined to discuss details and said counter-terrorism officials were alert to the dangers of "hostile reconnaissance" by terrorists before an attack
The West Midlands chief constable accepted the area was second only to London for the number of terror plots linked to it.
• This article was amended on 15 April 2016 to correct a reference to Mohamed Abrini, the "man in the hat" from Brussels airport.