It's rush hour at the tills! TWO HOUR queues in M&S and millions of shoppers hit the high streets for last-minute gifts and provisions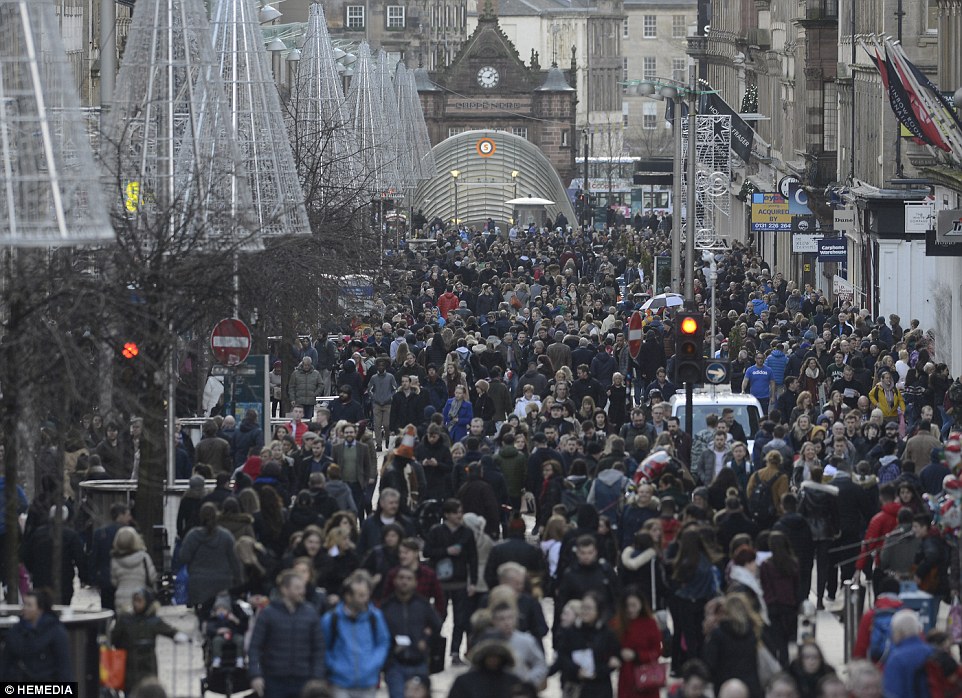 Thousands of shoppers flocked to the city centre today in the hope of finding the perfect present just days before Christmas.
Bangla sanglap Desk : Christmas shoppers across the county are facing packed shop floors and two-hour queues as the high street braces itself for the biggest day of the year.
Photos taken in Marks and Spencer stores in Cheshire and Hertfordshire show how customers were made to wait in long lines when they arrived collect their food orders just two days before Christmas.
One in three festive revellers plan to do their main Christmas food shop today, spending £2million a minute at peak time this afternoon as sales soar beyond the £2billion mark.
And purchases at supermarkets and department stores are expected to be three-and-a-half times higher than on a typical Wednesday with shoppers making more than 37 million transactions.
That figure is up 10 per cent on last year – meaning Christmas hosts and present buyers are proving to be more generous than ever.
Disgruntled M&S customers took to social media to complain of long delays affecting the collection service at branches across the country.
Shoppers posted pictures of lengthy queues both inside and outside stores, with some reporting waits of more than two hours to collect their pre-ordered goods.
At 9.40am Nicola Cramond said: 'Preordered my food as I do every year for the past 10 year. Pick up 8.30am-9am Irvine, I'm still in the queue to pay! #neveragain.'
James Cameron said: 'Your collection scheme is a joke. Why offer a service you cannot deliver?? M&S Newport, 40 mins = 40 steps!!'
In Beckenham, London, images showed queues for the service winding outside, almost reaching the car park.
At the supermarket's Handforth Dean store in Cheshire, staff handed out mince pies to unhappy customers as they endured the wait.
An M&S spokeswoman said: 'Today is one of the busiest food shopping days of the year and we manage collections with allocated timeslots.
'Our teams are working hard to ensure any waiting customers are looked after and can collect their order as quickly as possible.'
Sainsbury's expected its checkouts to hit their peak between 11am and 1pm and Tesco has taken on extra staff to prepare for what it predicts will be its busiest in-store shopping day.
Bluewater Shopping Centre in Kent said it was 'Christmas shopping as usual' two days after shoppers were left stranded for up to six hours after heavy traffic blocked car park exits.
Police were called to help clear the backlog on Monday when a broken down vehicle and high visitor numbers caused traffic chaos.
A spokeswoman today said: 'Traffic is flowing freely and it's Christmas shopping as usual.'
Bosses at Waitrose predict to see their highest footfall at 11am today.
Sainsbury's expects its checkouts to hit their peak between 11am and 1pm and Tesco has taken on extra staff to prepare for what it predicts will be its busiest in-store shopping day.
Visa Europe predicts that high street spending on its cards will reach £1.3billion, peaking between 1pm and 2pm when 3.2 million transactions will take place, making it the biggest shopping day of the year.
Kevin Jenkins, Visa Europe managing director for UK and Ireland, said: 'On December 23, Brits will race to the high-street to pick up last-minute presents, despite starting their Christmas shopping early this year with record amounts spent online on Black Friday.
'In keeping with previous years, the busiest day for Christmas shopping this year will be two days before Christmas where we are likely to see £1.3billion spent on the high street.
'More than £1million will be spent on Visa cards every minute, rising to nearer £2million every minute during the lunch time rush between 1pm and 2pm.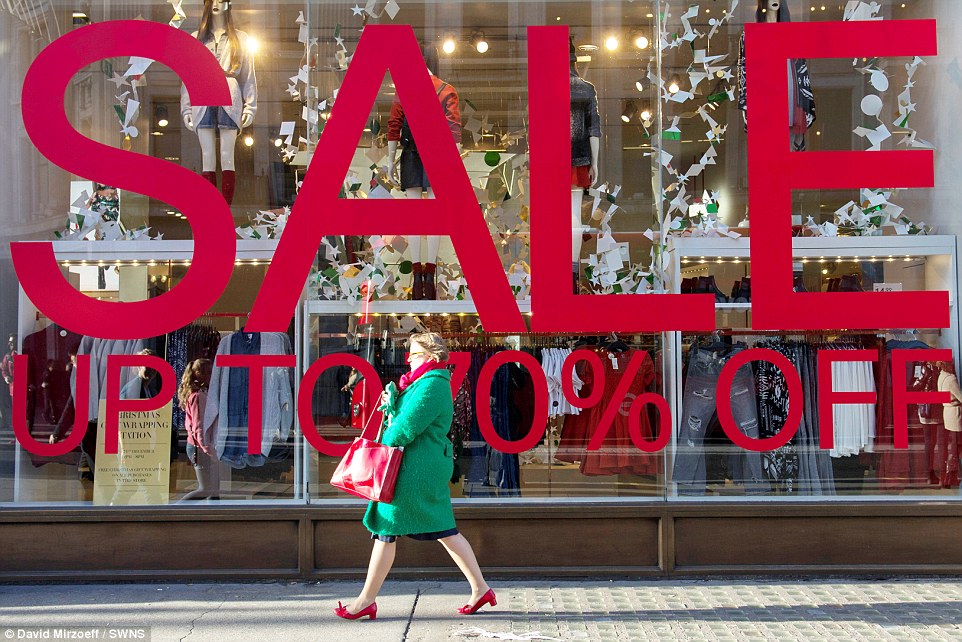 'Shoppers will demand quick and easy purchases during this busy period, and retailers with a contactless offering are likely to be the winners as they could see shorter queuing times and happier customers.'
Asda expect to sell a whopping 250 Brussels sprouts a second as families prepare for their Christmas feasts.
The supermarket giant will also shift £900,000 worth of turkeys today – and a further £900,000 of turkey crowns. Their entire stock of whole ham legs and Prosecco and red wine magnums are expected to sell out.
And for every bottle of Champagne that flies off the shelves, three bottles of Prosecco will be snapped up too.
A spokesperson for Asda said: 'It is great to see festive traditions standing tall in our sales predictions for Christmas.
'Along with traditional items, we are also seeing phenomenal increases in modern trends including Free From food and Christmas jumpers.'
Online retailers are expected to slash prices this afternoon as deadlines fast approach for online purchases to be delivered in time for Christmas Day.
Dubbed D-Day – or Christmas Delivery Deadline Day – most retailers have until 4.30pm to secure last minute purchases that will arrive on time.
DON'T FORGET THE BATTERIES
One in three shoppers will forget to buy batteries this Christmas – teeing up potentially massive disappointment for young children.
With most toys running off battery power, such a shopping oversight could ruin a young child's celebrations after Santa's visit.
Research carried out by Tesco also found roughly the same number will wake up on December 25 to realise they missed cranberry sauce from their shopping list.
A somewhat shocking one in five will forget to buy their loved ones presents – and the day could prove a disaster for the one in ten who will reach into the fridge only to realise they forgot to pick up a turkey.
After that, many web sellers are expected to offer huge discounts of at least 50 per cent.
Several online stores are trying to beat the competition on Boxing Day by releasing their bargains early.
Online retailers are slashing prices today, at least two-and-a-half days before the bricks and mortar shops in the hope of cashing in on bargain hunters.
For the past couple of years prices have been slashed prior to the traditional Boxing Day sales, and last year web firms found there was a considerable amount of shopping done on Christmas Day itself.
As a result sales are expected to hit around £750m this evening as shoppers pick up the early bird deals. It is possible that sales may even match that of Black Friday. Peak bargain shopping times are expected between 6pm and 10pm today.
Some market analysts suggest D-Day online sales could get close to the £1billion spent on Black Friday. Total sales of bargains online and in stores from Wednesday to the end of Boxing Day weekend is expected to reach over £3.2billion – which is higher than pre-recession figures and a total of £75.7billion is expected to be spent in total on Christmas this year.
Online beauty retailer Rakesh Aggarwal of escentual.com said: 'All the major online stores are jumping the gun on Boxing Day to offer deals after the D-day deadline closes so that they get all the customers.
'Canny consumers are going to pick up amazing bargains this Wednesday which would have been unheard of in previous years.'
Beauty companies make 38 per cent of their sales in the last two months of the year leading up to Christmas. Last year the biggest sellers were fragrance, facial skincare, fragrance gift sets and face make-up.
Those hoping to do Christmas on a budget were given a boost when B&Q started selling Christmas trees for just 1p.
One B&Q store in Canterbury, Kent, sold more than 10 Christmas trees on Monday at the knockdown price.
A B&Q spokesman said: 'B&Q would like to see every Christmas tree find a loving home. As we've got closer to the big day, a small number of real trees have been offered for as little as 1p.'