London Mayoral Election results: Sadiq Khan maintains strong lead halfway through count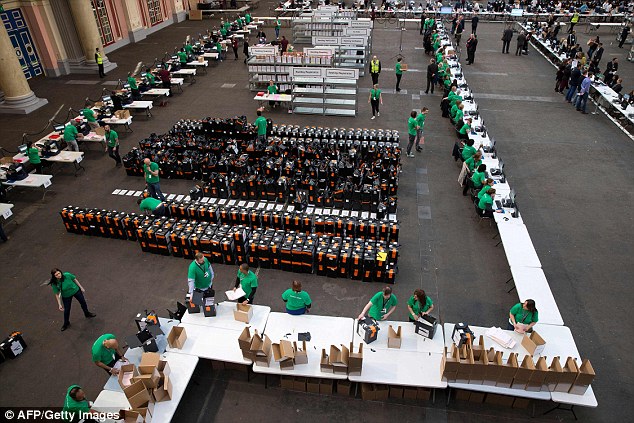 Bangla sanglap desk:Counting is underway in London today and the initial tally appears to hand Sadiq Khan a significant lead.
Overnight, senior Tories hit out at Zac Goldsmith for running an 'outrageous' anti-Muslim campaign and warning it could damage years of work at building community relations.
The final result of the race to succeed Boris Johnson will be announced at City Hall later today.
Mr Khan held a 14 point lead over Mr Goldsmith in the final pre-election poll by YouGov, raising expectations of a big victory to add a bright spot to an otherwise mixed night for Labour.
The party collapsed in Scotland, lost its majority in Wales and faced a handful of council seat losses in England.
Andrew Boff, the Conservative leader on the Greater London assembly, said Mr Goldsmith's strategy to attack Mr Khan for his links to Muslim 'extremists' in the race to replace Boris Johnson in City Hall was a mistake.
And in a remarkable broadside on the Tory mayoral candidate, Mr Boff said his party's tactics could damage relations with the Muslim community.
The negative campaign run by the Tories looks set to have failed as a YouGov survey suggested Mr Khan is likely to be 11 points clear of his Tory rival on the first round of voting before he finishes even further ahead once other candidates are eliminated.
The poll indicates Mr Khan is set to shake off the toxic anti-Semitism row which has engulfed Labour for the past week.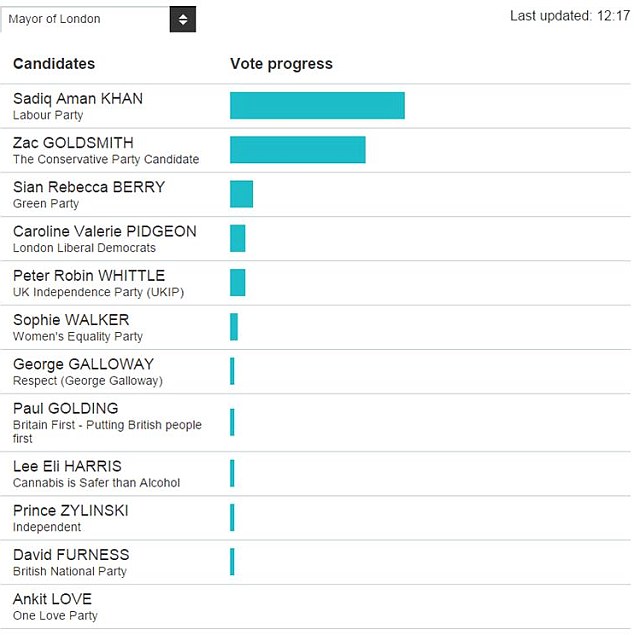 Minutes after the polls closed in the London mayoral election last night, Mr Boff criticised Mr Goldsmith's strategy for focussing on Mr Khan's apparent links with radical Muslims, telling the BBC: 'It was effectively saying that people of conservative religious views are not to be trusted and you should not share a platform with them. That's outrageous.'
He added Mr Goldsmith had 'done real damage' and had 'blown up bridges' that the Tories had built with London's Muslim communities, adding it was a mistake to 'equate people of conservative religious views with sympathising with terrorism'.
'I mentioned that I thought this was a mistake for future integration in London. If you are a London politician this is just a bizarre thing to do,' he said.
'I do believe it's going to affect Conservatives at the sharp end, especially in those parts of London where there is a high Muslim population.'