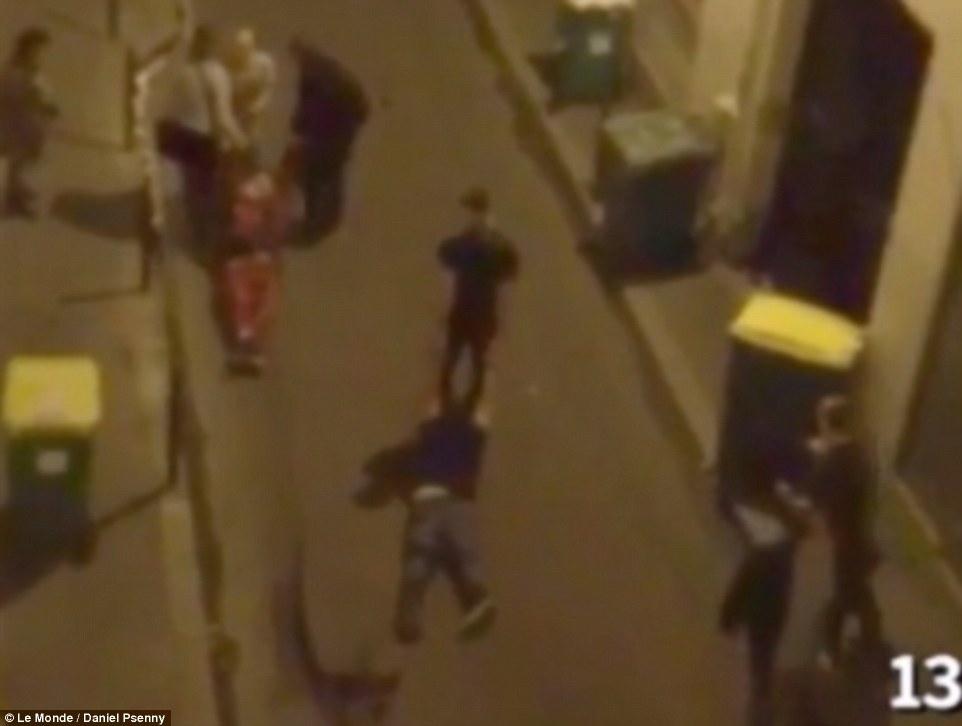 Bangla Sanglap Desk:
This is the shocking moment terrified concert-goers dragged their dying friends along a street and desperately clung to window ledges while fleeing the Paris massacre which has left at least 127 people dead and France in a nationwide state of emergency.
They were among dozens fleeing through a back exit of the Bataclan theatre where Islamic State gunmen mercilessly slaughtered up to 100 fans before blowing themselves up in a series of co-ordinated attacks across the French capital.
France was placed in lockdown after at least eight militants, all wearing suicide vests, brought unprecedented violence to the streets of the French capital in the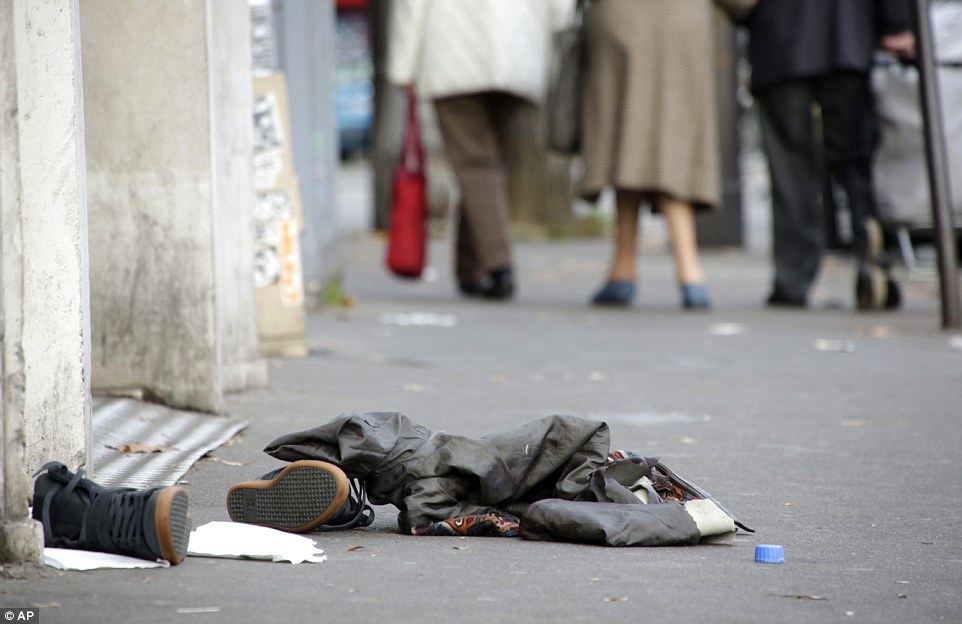 bloodiest attack in Europe since the Madrid train bombings in 2004.
Francois Hollande accused ISIS of orchestrating the worst attacks in France for more than 70 years, declaring it an 'act of war' and vowing to 'mercilessly' strike back.
In a televised address, the French President said the attacks were 'committed by a terrorist army, the Islamic State group, a jihadist army, against France, against the values that we defend everywhere in the world, against what we are: a free country that means something to the whole planet'.
His comments came as it was reported one of the suicide bombers had a Syrian passport.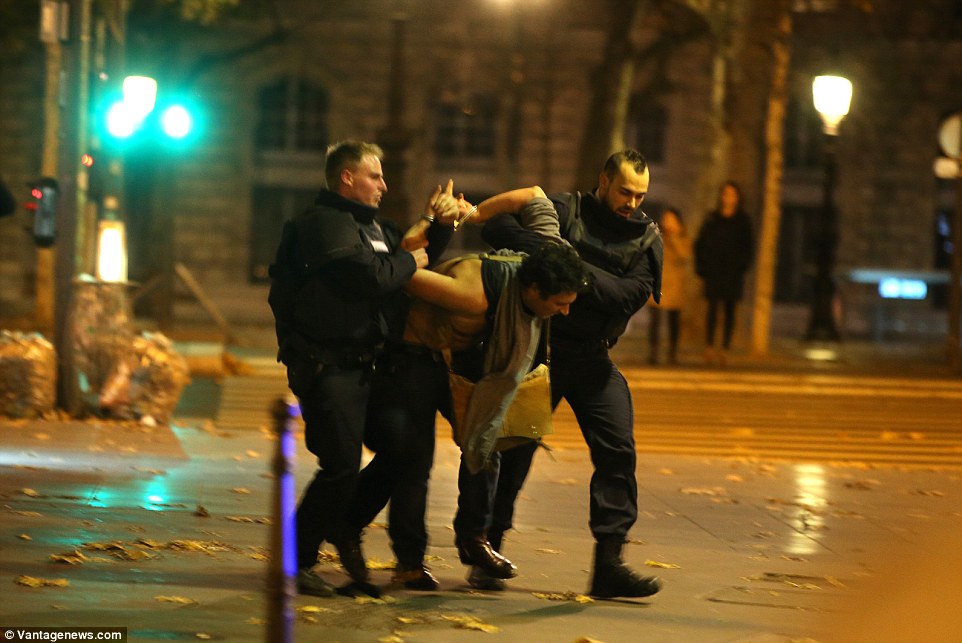 Police are also hunting accomplices amid fears of further attacks, with the arrest of a 51-year-old man in Germany last week after firearms were discovered in his car now being linked to the atrocities, according to media reports.
France was in a nationwide state of emergency today after at least 127 people were killed in a series of coordinated terror attacks in the heart of Paris that have paralysed the country.
Armed with AK47 machine guns and shouting 'Allahu Akbar', four of the group marched into a rock concert at the Bataclan theatre, massacring up to 100 people and taking dozens hostage.
Video footage emerged of the stampede into a street behind the theatre shows concert-goers leaving a trail of blood as they drag their dying friends from the scene.
One woman clung desperately to the window ledge of the second floor as she tried to hide from the terrorists.

Meanwhile, bodies lie by the entrance – all apparently dead, before one moves and attempts to stand. Bleeding heavily, and unable to lift themselves, the camera captures the moment they try to use their phone – possibly to call for help.
The video was taken by Le Monde journalist Daniel Psenny from his flat in a building opposite. He was later injured himself, shot in the arm through his window.
Another 11 people were gunned down at a Cambodian restaurant while two suicide bombers blew themselves up outside the Stade de France sports stadium where President Francois Hollande was watching the French football team play Germany.
Some 1,500 extra soldiers were mobilised to guard French facilities while schools and universities were closed.
Many French schools are normally open on Saturdays, but the French government ordered them shuttered as part of emergency security measures.
As a precaution, all sports events were cancelled on Saturday, while access to public facilities such as museums and swimming pools was restricted.
Soldiers were deployed at key sites around Paris, including Parliament buildings and religious sites, while in a highly unusual move Disneyland Paris has been closed to the public.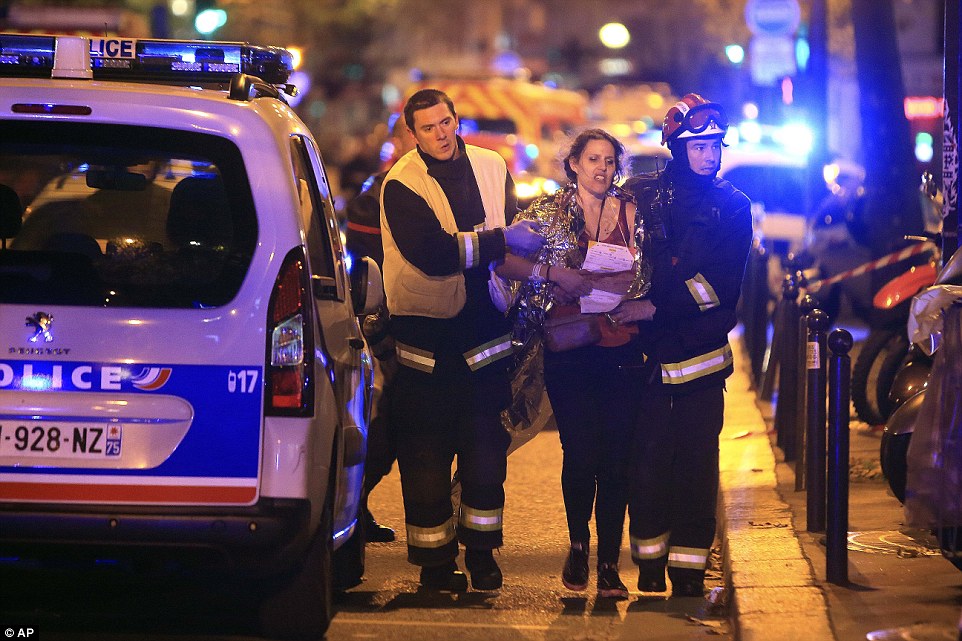 The government has also re-imposed border controls that were abandoned as part of Europe's free-travel zone.
Border and customs officers will check people, baggage and vehicles entering and leaving France by road, train, sea or plane, said customs official Melanie Lacuire.
French police arrested one suspected attacker who claimed to have been recruited by ISIS alongside three other extremists, it has been reported.
Hospitals appeared so overwhelmed, a junior doctor called on other medical staff to offer assistance in a number of location across Paris.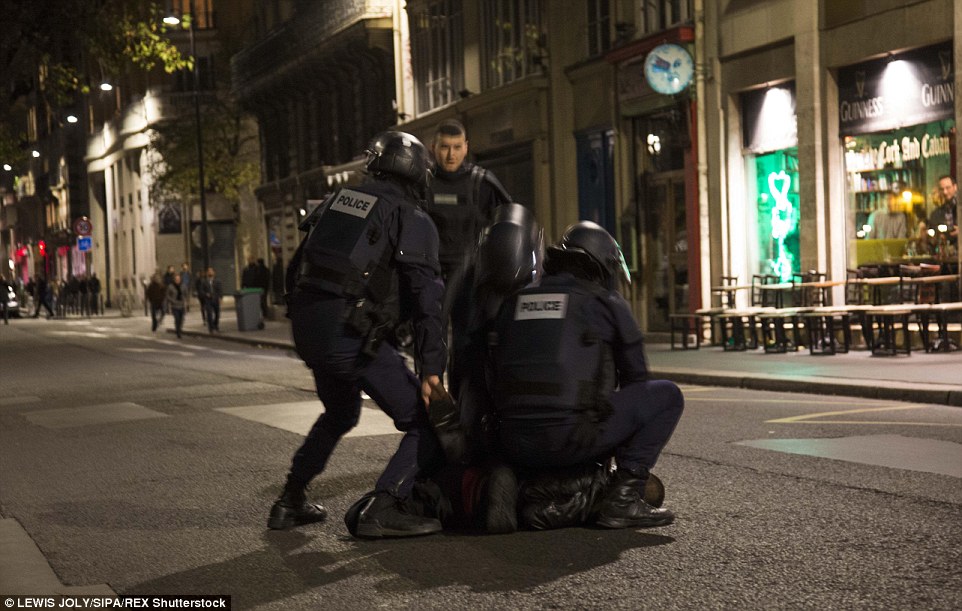 They tweeted: 'Present yourself to your nearest hospital and help in any way you can. If you are not needed at your local hospital, the following hospitals are in need of help: Bichat, Pitié Salpêtrière, HEGP, Lariboisière.'
French President Francois Hollande declared a national state of emergency following what he called 'unprecedented terror attacks', reinstating border checks and deployed 1,500 extra troops to the capital. Initially it had been reported that France had closed its borders.
Witnesses have told of the horror which unfolded inside the Bataclan theatre, where more than 1,000 people were watching rock band Eagles of Death Metal perform.
The told of how AK47 wielding terrorists shouted 'Allah Akbar' as they 'blindly' opened fire into a crowd of people.
'It looked like a battlefield, there was blood everywhere, there were bodies everywhere,' Marc Coupris, 57, told the Guardian.
He added: 'I was at the far side of the hall when shooting began. There seemed to be at least two gunmen. They shot from the balcony.

'They shot at 'very young' people in the violent attack which lasted around 15 minutes, said Julien Pearce, a journalist at Europe 1. The gunmen, who witnesses have described as young men in theirs 20s, reloaded three or four times as they gunned down innocent people at random.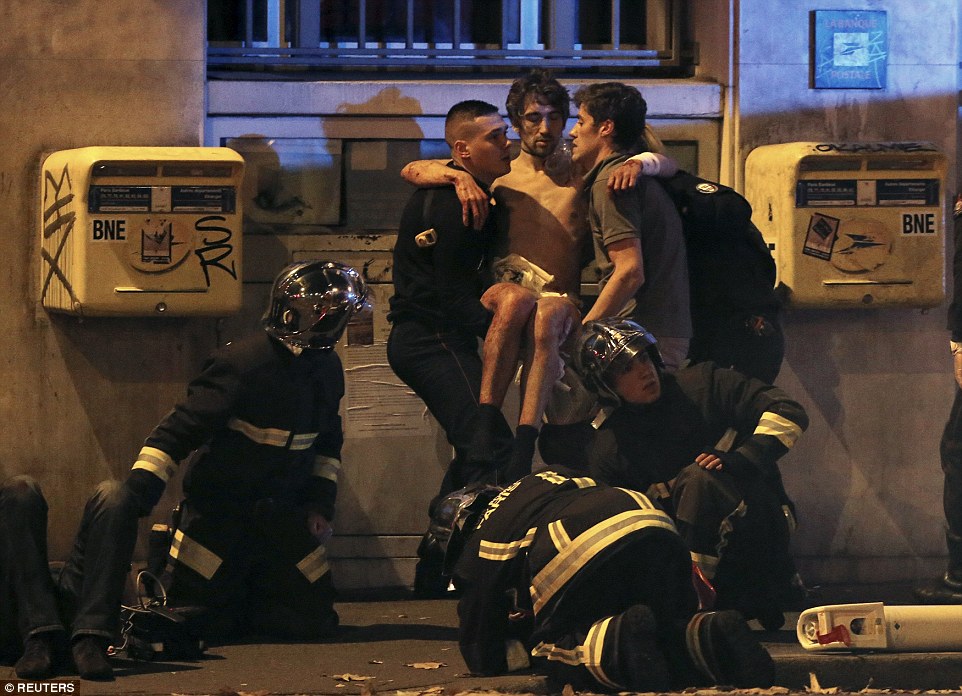 'Three men with Kalashnikovs and wearing flak jackets burst in in the middle of the concert,' another man, a man named Hervé, told the Telegraph after escaping through an emergency exit.
He said the men were not wearing masks, adding: 'They just started spraying bullets. I saw a girl hit right in front of me. There must have been quite a few dead.'
Another man said: 'The men came in and started shooting. Everyone fell to the ground. It was hell.
'I took my mum, and we hid. Someone near us said they have gone, so we ran out.'
And Gilles Avel said: 'We are all terrified, and have been told to get away as soon as possible.'
A witness who was near the front of the concert when he saw a man wearing a cap firing into the crowd.
He told the Liberation newspaper: 'He shot in my direction. People started falling and throwing themselves towards the ground.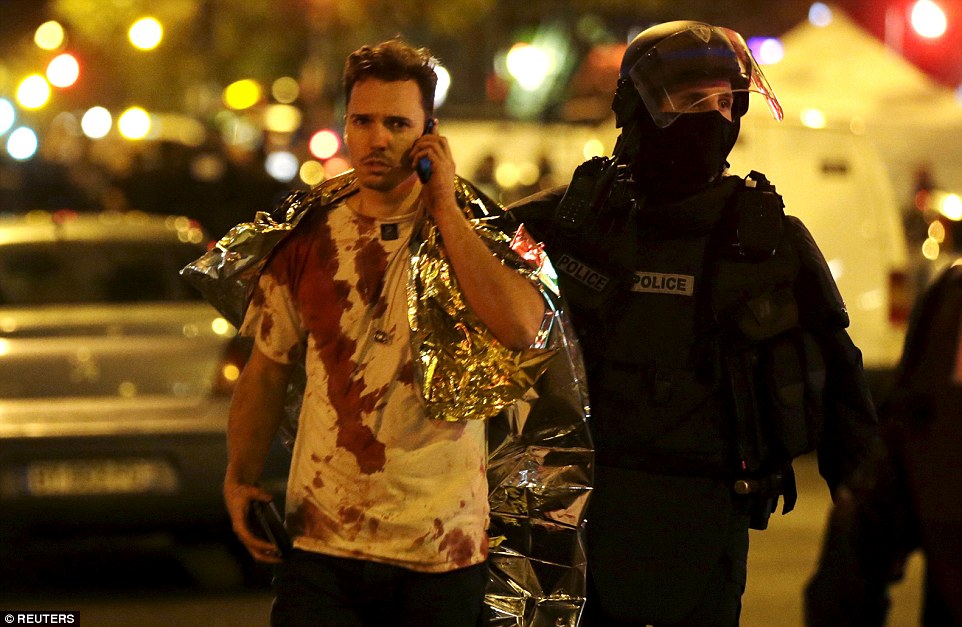 'I think the guy next to me was dead. I went out of the emergency exit at the opposite end of the road. It was only once in the road that I started to see people covered in blood.
Another witness, Pierre Janaszak, a radio presenter, told AFP he was sitting in the balconies with his sister and friends, when they heard shots from below about one hour into the show.
'At first, we thought it was part of the show but we quickly understood. They were three I think and they were just firing into the crowd.
'They were armed with big guns, I imagine Kalashnikovs, it was a hell of a noise. They didn't stop firing.
'There was blood everywhere, corpses everywhere. We heard screaming. Everyone was trying to flee.'
'They had 20 hostages, and we could hear them talking with them,' said Janaszak, who was hiding with several others in the toilet.
'I clearly heard them say 'It's the fault of Hollande, it's the fault of your president, he should not have intervened in Syria'. They also spoke about Iraq.'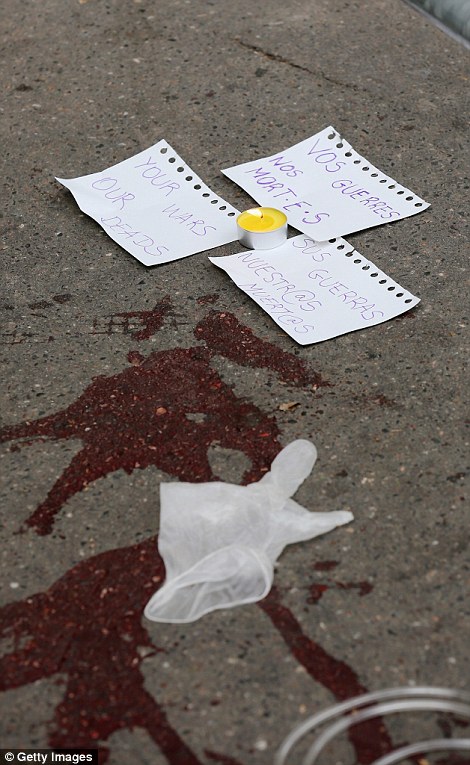 A statement on Eagles Of Death Metal's Facebook page said: 'We are still currently trying to determine the safety and whereabouts of all our band and crew. Our thoughts are with all of the people involved in this tragic situation.'
The two explosions in a bar near the Stade de France stadium were detonated by suicide bombers, it has been confirmed.
A witness said the explosions were loud enough to be heard over the sound of cheering fans. Sirens were heard immediately and a helicopter was seen circling overhead.
A 27-year-old man, who was just 30ft from the explosion, said he felt like he was 'in a video game'.
Speaking to the Daily Mail, he said: 'There was an explosion in front of us. It was a very loud noise. At first I thought it was a bin that had been set alight. But then I thought it wasn't a fire cracker.
'Everyone stopped. A man was on the floor screaming. I don't know what happened to the man. I just heard him scream and move around the floor. He wasn't unconscious.'
As he approached the stadium door around three minutes later, a second bomb went off 15ft from where he was standing.
He added: 'It was a very loud noise. I've never heard anything like it. My heart jumped. There were 20 of us. We started running. The match had started 15 minutes before.
'The doormen started locking the stadium doors… it was shocking to see. I thought, "that could have been me".'
Players briefly stopped in their tracks when they heard the twin blasts. Following news of the attack, thousands of fans – too scared to leave the stadium – poured onto the pitch.
Earlier in the night, an AK47 wielding gunman attacked a Cambodian restaurant, Le Petit Cambodge, in the Bastille area of the city, while grenade blasts were also heard.
Police and other emergency services are at the scene, which is close to where the Charlie Hebdo attack happened in January.
Images posted online showed the cracked windows of what appeared to be the restaurant under attack.
Dozens of people were standing outside their cars on the junction opposite and the lights of police cars could be seen above them.
Eyewitness Ben Grant, who was in a nearby bar with his wife at the time, said he saw six or seven bodies on the ground.
He told the BBC: 'I was told people in cars had opened fire on the bar. There are lots of dead people. It's pretty horrific to be honest.
'I was at the back of the bar. I couldn't see anything. I heard gunshots. People dropped to the ground. We put a table over our heads to protect us. We were held up in the bar because there was a pile of bodies in front of us.'
Emilioi Macchio from Italy was at a bar close to where the restaurant shooting took place, and said it 'sounded like fireworks'.
Both officials spoke on condition of anonymity because they were not authorized to be publicly named.
President Hollande said last night: 'France needs to be strong. Terrorists want us to be scared. In the face of terror we must be united.'
'We have, on my decision, mobilised all forces possible to neutralise the terrorists and make all concerned areas safe. I have also asked for military reinforcements. They are currently in the Paris area, to ensure that no new attack can take place. I have also called a cabinet meeting that will be held in a few minutes.
'Two decisions will be taken – a state of emergency will be declared, which means that some places will be closed, traffic may be banned, and there will also be searches which may be decided throughout Ile de France [greater Paris].'
The state of emergency ordered by Hollande last night is an exceptional clampdown on civil liberties. It gives the authorities virtual total power over the movement of people and vehicles at all times.

Curfews, travel restrictions and house arrests are all in the power of the police. Closure of public places – as is planned tomorrow – all come under the law and all media, movie screenings and theatre performances are also within the strict remit of the government.
Paris' deputy mayor said the attacks were a horrific reminder of the Charlie Hebdo massacre in January, adding: 'It's a heavy recollection of what happened in January (C. Hebdo). Now we are struck again. This is harder. I am shaken.'
U.S. President Barack Obama last night branded the carnage in Paris an 'attack on humanity' and claimed it was an 'outrageous attempt to terrorise innocent civilians'.
He said: 'This is an attack not just on Paris, not just on the people of France, it's an attack on all of humanity and the universal values we share. This is a heart-breaking situation, and obviously those of us here in the United States know what it's like.'
David Cameron said that he was 'shocked by events in Paris' and pledged to do 'whatever we can to help', adding: 'Our thoughts and prayers are with the French people.'
The Prince of Wales has condemned the Paris terrorist atrocities as 'bestial attacks' and said he wanted to express his 'utter, total horror' at what had happened.
The restaurant targeted Friday, Le Carillon, is in the same general neighborhood as the Charlie Hebdo offices.
France has been on edge since ISIS extremists launched a bloody attack on the satirical newspaper and a kosher grocery that left 20 people – including the three attackers – dead.
The California rock band The Eagles of Death Metal had been playing Thursday night. A post on the band's Facebook page said that the safety of the group was still being determined.
Witnesses described unmasked men in their early 20s with Kalashnikov assault rifles bursting into the middle of the concert and begin spraying bullets at attendees as they reloaded three or four times.
The onslaught lasted for maybe ten minutes as people screamed and cowered on the floor, covering their heads in a vain bid to escape the bullets, a witness told the Daily Mail.
"I was in the pit at the front. I heard bangs go off. I turned round and I saw a silhouette with a cap on who was heading towards the back door,' one witness told the newspaper Liberation.
'He shot in my direction. People started falling and throwing themselves towards the ground'.
Others described hiding in rooms by the stage before making a break for the emergency exit left of the stage, while others said they escaped to the roof and were helped by a man in an apartment adjacent to the theatre. ( Ref – Daily mail )