Will Tulip lose it for Labour?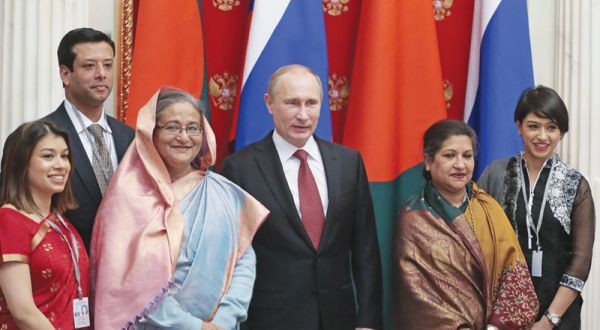 Bangla Sanglap Desk:Controversy raged through Camden this week as desperate Tories launched a personal attack on Tulip Siddiq, Labour candidate for Hampstead and Kilburn and niece of Bangladesh's Prime Minister Sheikh Hasina – and a lack of convincing answers risked losing Labour its slender 42-vote majority.
On 12th April (Sunday), the Daily Mail reported that "Tories" were accusing Ms Siddiq of concealing her "extraordinary links" to Russian President Putin, who signed a $1 billion deal with Ms Siddiq's aunt to provide weapons to the Bangladeshi Government. The deal came just before the Bangladeshi authorities launched a brutal crackdown on opposition movements in Bangladesh which involved hundreds of innocent civilians being killed and thousands injured by armed state forces. Advertising the fact that Ms Siddiq was in Moscow when the weapons deal was signed might be expected to make Bangladeshi voters reluctant to vote for her.
A Labour Party spokesperson rushed to deny, on Ms Siddiq's behalf, that there had been an attempt to cover up her links with these world leaders, both of whom have been accused of significant human rights abuses. The Labour spokesperson told the Daily Mail, "Tulip is proud of her background and has always been very open about it."
However, different accounts of the meeting with Putin are circulating (see below). London Bangla contacted Ms Siddiq for comment, hoping to clear up the confusion, but she has not answered our approaches.
•In the original Daily Mail article, a Labour Party spokesperson is quoted as saying that "Tulip was totally separate from any official delegation but was invited to an event with her family". There is no explanation of why Ms Siddique (and her mother Rehana, who is Sheikh Hasina's sister) should have gone to Moscow to see the Prime Minister while she was making a formal state visit to Russia. Why not make a family visit to Bangladesh, when Sheikh Hasina would have more free time – or even see the Premier on one of her visits to the UK?
•By Thursday, 16th April the Evening Standard was coming up with a somewhat different story, reporting that Ms Saddiq had gone to Moscow to see her aunt (Sheikh Hasina) on a private basis, and her aunt had taken her to a "meeting with Putin". Ms Siddiq told the Standard that she had challenged Putin over his record on gay rights – but he avoided the question. Why did the Labour Party not tell the Daily Mail that Ms Siddiq had asked Putin this question? Why did it take four days for Ms Siddiq to make her question public?
Ms Siddiq added that Putin had asked Sheikh Hasina if her family were present at the meeting and stated that he would like a picture. Ms Siddiq admitted that she should have considered how the picture would look to other people. Did Ms Siddiq ask Putin the question about gay rights before the picture was taken, or after?
•However, Ms Siddiq had already spoken to the Independent on 5th April about the meeting. She gave that paper a similar account of the meeting, but not an identical one. The Independent quotes her as stating that she "and her sister" went to Russia – though in the picture are Ms Siddiq and her mother (Sheikh Hasina's sister), not Ms Siddiq and her sister. Ms Siddiq went on to say, "We were totally separate from the official delegation and were invited to a family event. I didn't know Putin was going to be there, but he asked for a picture It was two seconds, but I can see why people might take it out of context."
Why did Putin attend a family event, which Sheikh Hasina was holding – presumably during her down time – during, but not as part of, her official visit? Did Sheikh Hasina invite him to her family event (why? to meet the family?) or did he gatecrash it? When did Ms Siddiq challenge Putin over his gay rights record during the "two seconds" they were together? And why did she not tell The Independent that she had done this? The Labour Party is proud of its support for Gay Rights, and rightly so: you would have thought Ms Siddiq would have regarded her daring question the highlight of her private meeting with Putin just as much on 5th April as she did later, on 16th April.
One can understand why the Tories would have wanted to raised the "Putin connection" now, as they are desperate to take this seat off Labour – as part of stopping Labour from forming a government. Unfortunately – and not for the first time – Labour's selection of its official candidate may well have helped the Tories, rather than Labour. It is not the brush with Putin that will put voters off voting Tulip. The fact that she was part of the Sheikh Mujibur Rahman-Sheik Hasina Awami League ruling dynasty in Bangladesh was already well known – and that makes her a divisive figure, not a unifying one. Voters are well aware of the Hasina-Putin arms deal – not because they need to see the "family snap" taken during a Russian holiday, but because the images of the slaughter of innocent, unarmed civilisans in Bangladesh are much more enduring. Labour may discover, again, that it cannot take the south Asian vote for granted: when will it learn the lessons?
The candidates in the Hampstead & Kilburn constituency are:
Ronnie Carroll (The Eurovisionary Carroll – deceased), Robin Charles Ellison (U-Party), Rebecca Johnson (Green Party), Simon Marcus (Conservative), Maajid Nawaz (Liberal Democrat), Magnus Nielsen (UKIP), Tulip Siddiq (Labour).